Over three years after declaring "Operation Dignity," a military invasion of the massive east Libyan city of Benghazi, Gen. Khalifa Hifter today announced "victory" in the city, claiming to have gained full military control of it with his Libyan National Army (LNA).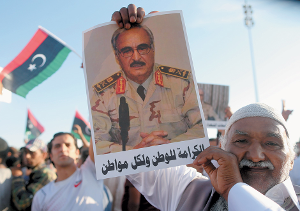 Gen. Hifter is a former Gadhafi-era general turned CIA-funded rebel and failed coup plotter, and the LNA is his personal military force, though both are recognized as the official military of Libya by one of the nation's three governments, the Tobruk Parliament.
This isn't the first time Benghazi has been "captured" during this siege, though if it proves more permanent this time it could be a major boost for the Tobruk Parliament, which is already the only government in the east, and would now have claims over much of the eastern half of the country.
The Tobruk Parliament is the UN-recognized parliament of Libya, though ironically not the UN-recognized government. As one of three groups that lay claim to being the rightful government of the country, gaining Benghazi would make them a bigger force to be reckoned with, though it's also liable to start more fighting with the west Libyan factions.