In a private meeting with UN Secretary General Antonio Guterres today, Secretary of State Rex Tillerson declared that the fate of Syria, and President Bashar al-Assad is "now up to Russia," by way of accusing them of not standing by previous negotiations on a peace process for ending the Syrian War.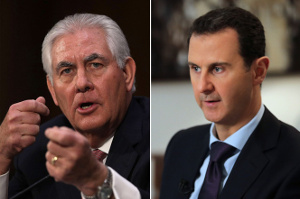 The US and Russia have both wildly disagreed about what the negotiated Geneva Process actually means, particularly the transition to a free election process, as the US has long maintained it implies absolute regime change, and that neither Assad nor any other high-ranking officials would ever be allowed to run for office again.
Tillerson told Guterres that the US has "limited tactical goals" in Syria, and that this doesn't include weakening Assad's government or trying to prop up rebels, despite having spent many years propping up the rebels and repeatedly demanding regime change.
If Tillerson's comments are an accurate statement of US policy, it might significantly change policy, as it would presumably mean the end of US attacks against Syrian military targets, and a return to a focus on fighting ISIS. This, ironically, was the policy that President Trump had been expected to follow when he took office, before shifting his focus rather dramatically.