The Dutch government has lodged a formal protest with Israel after it was revealed that Israeli forces raided the Palestinian village of Jubbet al-Dhib, in southern Bethlehem, and seized scores of solar panels they had donated to try to provide electricity to the villagers.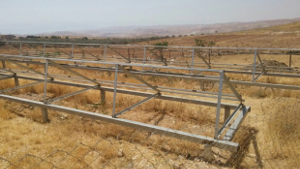 The overall project was estimated to cost about $400,000, including panels, a diesel micro-generator, and assorted electronics. The panels are estimated to be worth $40,000 alone, and the Netherlands is demanding that Israel return them.
Even if they got the panels back, however, the project is effectively dead, with the Israeli forces that removed the panels also smashing up all the electronics while they were there, to make sure they could never be used again. Israeli officials insist this was appropriate, and that no one had permission to put solar panels in the village in the first place, meaning it gave them implicit permission to destroy the electronics.
Israeli settlements in the same area are attached to the national security grid, though Israel did not allow the Palestinians such a connection, this means that remote villages have essentially no electricity, with single buildings here or there squeezing a couple hours a day out of diesel generators. The solar program would've resolved this long-standing problem, which apparently didn't sit well with Israel's Defense Ministry, which rules the occupied West Bank and seemingly goes out of its way to keep the occupied population struggling.