In an interview with the Fayetteville Observer, Lt. Gen. Stephen Townsend talked about a planned troop rotation coming up in September, saying he hoped the fighting over the city of Mosul would be over by then, but that despite predictions of an end to the ISIS war, US troops should stay.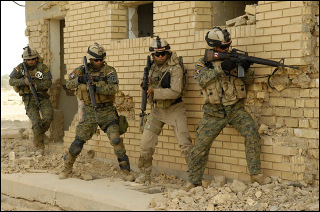 Townsend's comments about the US having a long-term military presence in Iraq is in keeping with other Pentagon officials, who have tried to blame the rise of ISIS between the end of the 2011 occupation and the 2014 reinvasion on the lack of US ground troops, despite the US having a substantial presence, and having spend years arming and training Iraq's military.
Townsend insisted that the US troops would have to stay long after the ISIS war specifically to train up the Iraqi military again, and to make sure that they can actually fight off future insurgencies. There's no indication how long this would take.
Other officials, however, have envisioned a more or less permanent US military presence, suggesting that the only way Iraq can be kept intact without collapsing into another immediate war would be for the US to have a number of troops.