It's very difficult to accuse Iran of being in violation of the P5+1 nuclear deal, because they are plainly not. The International Atomic Energy Agency (IAEA), which is responsible for policing the deal, confirms on a monthly basis that this remains the case, and that Iran has not been in violation of the pact.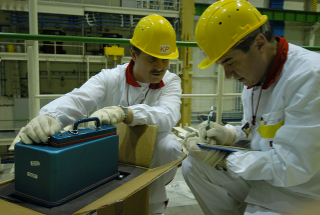 That's an inconvenience for the Trump Administration, which has repeatedly condemned the deal and insisted Iran would violate it. Ambassador to the United Nations Nikki Haley appears to have decided that the path of least resistance is overt lying, today claiming at the UN Security Council that Iran had "repeated violations" of the deal.
The claim was made literally during a meeting at which all the other permanent members of the Security Council were talking up how great it is that the deal is in place, and that Iran is showing such a deep commitment to its continued participation.
This sort of undercut Haley, who tried to elaborate on the "violations," but really just accused Iran of supporting the governments of Syria and Iraq in the war against ISIS. Naturally, this was never a condition of the nuclear deal, and nor was Iran's development of conventional missiles.
Most of the other Security Council members just sort of politely smiled throughout and ignored the ravings of Haley, who vowed that the US wouldn't turn a blind eye to the imagined violations. Britain's deputy Ambassador, however, issued a statement warning that the US and everyone else need to uphold their own commitments under the P5+1 deal.
That's really been the biggest obstacle to the deal, that the US has mostly ignored sanction relief they were obliged to offer under the deal, and Congressional hawks opposed to the deal have imposed a bunch of "new" sanctions to replace anything that was removed, nominally for "non-nuclear" reasons.