Around the start of the Muslim holy month of Ramadan, Iraqi officials were saying their goal was to recover the al-Nuri Grand Mosque in Mosul by the month's end, saying it would be a huge symbolic victory, and proof of ISIS' downfall. Ramadan is over, but Iraqi officials are now declaring mission accomplished.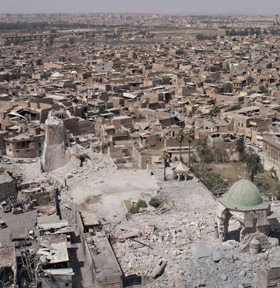 At least sort of. The Iraqi military finally recovered the area around the mosque, or at least where the mosque used to be. Shortly before the end of Ramadan, the entire mosque and minaret was destroyed, meaning all Iraq really recaptured was a lot of ancient rubble.
That was plenty as far as Iraqi Prime Minister Hayder Abadi was concerned, as he presented the victory as decisive, and the "end of ISIS" in Iraq, even though ISIS still has territory inside Mosul, and a substantial presence across Iraq as an insurgency.
Some nine months into the invasion of Mosul, however, Iraq's military has struggled mightily to recover the city, and is desperate to present that not only as a victory, but one that justifies the massive costs paid by both the military and the civilian population.