Arriving in the US on his first visit since his recent election, South Korea Moon Jae-in gave a talk at the Marine Corps base in Quantico, Virginia, dramatically reversing his previously stated position on North Korea diplomacy, and insisting that he now backs President Trump's policy.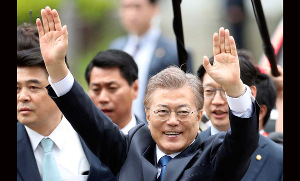 Moon has campaigned on a return to the Sunshine Policy of diplomacy with North Korea, trying to find common ground and reduce tensions. He also said that he thought it was important that South Korean leaders learn to say no to the United States.
Now, however, Moon insists he will stand united with President Trump on demanding the dismantlement of North Korea's nuclear program, expressing hope it would eventually lead to peace across Northeast Asia.
National Security Adviser H.R. McMaster today reiterated that "all options" are on the table too, and that the US will never accept North Korea as a nuclear power. Nations across the region have expressed particular concern that the US might unilaterally attack North Korea.