Russian Foreign Minister Sergey Lavrov today confirmed there while there've been no specific plans for Presidents Putin and Trump to directly talk at next month's Hamburg G20 summit, he assumes they will do so, because they'll both be in the same room at the same time.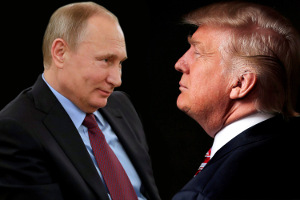 Lavrov noted it's traditional for world leaders to talk a bit when they are both at a major event like this, and it would "probably not be right" if they weren't able to have a talk on some important issues while they're there.
President Trump is said to be very eager to make his first meeting with Putin in Germany a high-profile one, wanting full media access and diplomatic protocols, but he is said to be facing opposition from administration officials who want him to "keep his distance."
Reports about the resistance to Trump meeting Putin suggests that some are wanting to organize a formal meeting of the US and Russian delegations, but without the two presidents involved. Trump has yet to meet Putin face-to-face, and as Lavrov pointed out, it'd be very odd for the US to deliberately avoid such a meeting when they're in the same room.