Just days after committee chair Mac Thornberry (R – TX) announced his intention to unveil a $640 billion military spending bill, the House Armed Services Committee actually unveiled a $696.5 billion bill, which you'll notice is quite a bit more, but which is also being presented as a "cut" from the previous announcement.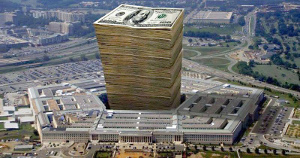 The imagined cut is based on the idea that the $640 billion would've added quite a bit of funding for Overseas Contingency Operations (OCO), and the new bill already includes $75 billion in OCO, which they're presenting as meaning the bill is only $621.5 billion, despite the OCO money being very real, and also including substantial amounts that'll be spent on things not related to overseas operations.
Either way, this is far above the $603 billion proposal offered by President Trump, which was itself such a big increase, before OCO was figured in, that he was bragging it proved he's the "most pro-military." This of course was followed by Congressmen condemning him for not making it even more irresponsibly large.
Padding to OCO budget with things not related to overseas operations has long been a way for Congress to circumvent budget caps, and present the military's growth as smaller than it actually is. This bill very much continues that tradition, though it's still very early going, and there will doubtless be more amendments tacked on raising the final dollar value even higher before all is said and done.