A flurry of major bombing attacks hit northern Pakistan today, killing at least 85 people and wounding over 200 others. There was also a shooting attack in southern Pakistan later in the day that killed four more police.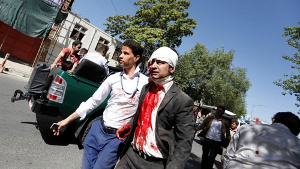 The earliest suicide bombing took place in Quetta, the capital of Balochistan Province, where police tried to search a car at a checkpoint and the driver detonated a cache of explosives. 14 were killed, including at least seven police, in that attack. Several others were wounded
Further to the east, in the city of Parachinar along the Afghan border, a pair of bombings targeted a crowded marketplace. The blasts were timed just three minutes apart, apparently aiming to draw a crowd with the first blast and killing even more people. 67 were killed, and nearly 200 wounded in that attack.
ISIS has claimed credit for the Quetta attack, saying they intend to continue launching such attacks until their form of sharia law is imposed across Pakistan. Lashkar-e Jhangvi claimed credit for the bigger attack Parachinar. The Karachi shooting was described only as being conducted by "Taliban."