The USS Fitzgerald, an Arleigh-Burke-class destroyer, has sustained heavy damaged today when it collided with a Philippines container ship, the ACX Crystal, just south of the Japanese port of Yokosuka. One US sailor was injured and evacuated from the ship, dna seven more crew members are unaccounted for.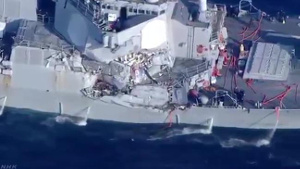 Details of what happened are still not totally clear, but the Fitzgerald is said to have sustained heavy damage to its starboard side, having sustained some flooding from damage below the water line, and is slowly en route back to Yokosuka under limited propulsion.
The Philippine ship appears to have fared better, as while there hasn't been any official statement, there've been no reports of injuries aboard the ship, nor indeed serious damage, with Japan's NHK  network reporting only some scratches along the ship's bow.
The ACX Crystal was actually a fair bit larger than the Fitzgerald, 70 meters longer, and with over triple the displacement weight. The Navy has promised an investigation into the incident, and has dispatched a medical ship, along with tugboats, to the scene.