Visiting London today, Saudi Foreign Minister Adel al-Jubeir announced that his nation, along with the United Arab Emirates, Bahrain, and Egypt, are drawing up a long list of "grievances"which will soon be presented to Qatar, a long-time ally with whom they split a couple of weeks ago.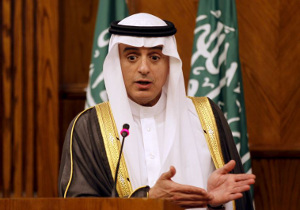 Jubeir offered no specifics on what the grievances would include, beyond demands to "halt its support for extremism and terrorism," but he insisted that despite only four nations being involved in drawing up the list, they should treat them as demands being made by the whole world.
Jubeir insisted his country would no longer tolerate Qatar use of "hostile media" and expect to remain a member of the GCC in good standing, saying that Qatar had to give in to the forthcoming demands to make the region "a better place."
Saudi Arabia had previously issued an ultimatum that included a long list of demands, mostly centered on permanently shutting down al-Jazeera and publicly vowing to never again take any position on foreign policy that was contradicted by the other GCC member nations. The Qataris already rejected that, however, saying they won't give up their sovereignty simply to end the blockade by a handful of neighbors.