US officials have long presented the Kurdish YPG's offensive against the ISIS capital city of Raqqa as the "beginning of the end" of ISIS in the region, presenting the eventual conquest of the city as virtually an outright defeat for what remains of ISIS, and vowing there would be no survivors.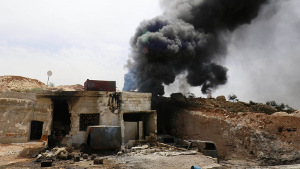 Just days since announcing the beginning of the Raqqa invasion, however, US officials are already laying out the talking points for their "messy battles" yet to come after the capture of Raqqa, going so far as declaring Mayadin the "next capital" that will be targeted.
Mayadin has already been the target of substantial US airstrikes, with attacks last month against government buildings in the city killing huge numbers of innocent civilians, many of them identified as relatives of ISIS fighters. Airstrikes killing large numbers of civilians have also been the main visible US "contribution" to the attack of Raqqa as well.
After over half a year of "surrounding" Raqqa, reports are that there remain ways through which ISIS fighters can get out of the city, particularly southward. This is setting up more protracted battles for more cities across eastern Syria. Despite confident statements to the contrary, the war is likely to last a lot longer.