UN war crimes judge Aydin Sedaf Akay has been sentenced to seven and a half years in prison today on charges of "membership in a terrorist organization." Akay's convictions is related to accusations he is a member of the banned Gulenist organization FETO.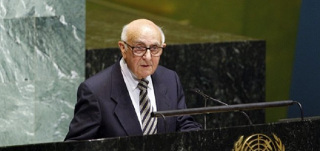 Akay is one of many thousands of people of all walks of life arrested by the Turkish government over the past year based on accusation of membership in, or sympathy for, one of cleric Fethullah Gulen's organizations. This is related to last year's failed coup, which Turkey's government has blamed on Gulen.
Akay's arrest and sentence was particularly controversial because UN judges are supported to have a considerable level of immunity from prosecution. Akay was in the process of handling an appeal case related to the Rwandan genocide trials, and that case is now more or less indefinitely on hold because of his absence.
Court President Theodor Meron noted that the MICT has issued a judicial order for Akay to be released back in January, and has subsequently referred Turkey to the UN Security Council for refusing to release in the judge. Given Turkey's keen interest to prosecute anyone perceived to be opposed to the Erdogan government, it's unlikely they will accept any international calls to release him.