Last month's state visit by Turkish President Recep Tayyip Erdogan continues to strain relations with the United States, as DC Police today issued arrest warrants for 12 members of Erdogan's security team related to an incident in which they attacked and beat up a group of demonstrators near the embassy.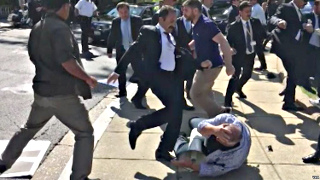 Turkey had complained that the protests shouldn't have been allowed in the first place, insisting that letting Kurds demonstrate near their embassy was deliberately provocative. President Erdogan is even more outraged now, and has promised to resist the arrest warrants.
The Turkish Foreign Ministry has summoned US Ambassador John Bass over the warrant, insisting it "lacks legal basis," while President Erdogan has argued he "could have died" if his security forces didn't go across the street to thrash the demonstrators.
Erdogan added that he obviously took the guards to the US with him to "protect himself" from such incidents, and that there was no way the US should be able to arrest them for doing that. All indications, however, are that the protesters did not resort to violence until Erdogan's team went over and started beating them up.
While the Trump Administration has offered only limited criticism of the incident, local officials within Washington D.C. have been a lot more proactive in seeking charges, arguing that the attack was a violation of the protesters' first amendment rights.