The Senate has voted on the resolution introduced by Sens. Rand Paul (R – KY) and Chris Murphy (D – CT) aiming to block portions of President Trump's $110 billion arms sale to Saudi Arabia. The vote was as expected far closer than previous ones on previous arms deals, failing with just a 47-53 margin.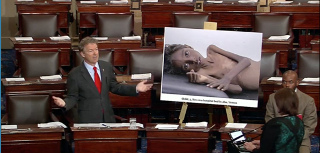 Sen. Paul spoke extensively on the need to limit arms sales to Saudi Arabia, citing the humanitarian calamity of the Saudi invasion of neighboring Yemen, warning it has linked Saudi Arabia's tactics to the United States' support in the minds of Yemenis.
Paul cited the "very troubled record" of Saudi Arabia on human rights, and cautioned that the record arms deal with them would serve to fuel hostility toward the United States abroad, citing specific incidents of Saudi warplanes bombing hospitals and funerals.
Sens. Lindsey Graham (R – SC) and John McCain (R – AZ) meanwhile argued that the arms might conceivably help the humanitarian crisis in Yemen, because the US makes "smarter" weapons that are more accurate. This argument was made in spite of the Saudi government already using US bombs throughout the war. The two also argued that arming Saudi Arabia was an excellent way for the US to move against Iran.
It's unlikely that the arguments were seriously impactful on the vote, however. Rather, support for the arms deal is primarily bolstered by lobbying from major US arms makers who stand to make tens of billions of dollars exporting weapons to the Saudis to keep the Yemen war going. But for five Senate Democrats who voted against the resolution, it could've easily blocked aspects of the sales, and those Democrats almost certainly weren't swayed by Lindsey Graham's say-so.