Speaking about a number of recent US attacks on pro-government forces in Syria, Secretary of Defense James Mattis insisted that the attacks were simply "self-defense" aimed at protecting US ground troops positioned inside Syria, and that the US would continue to do so.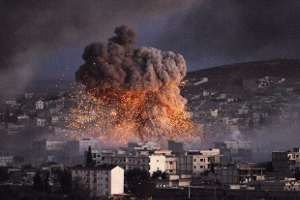 The US has launched multiple attacks, mostly targeting Shi'ite militias in southern Syria's Daraa Province, who they accused of getting too close to a base belonging to the rebels at al-Tanf, a base at which some US forces are deployed. The militias have mostly been fighting al-Qaeda and ISIS in the area, but the US insists they were a threat to American ground troops.
Syria's government has already addressed this claim, noting that the US troops were never invited into Syria in the first place and aren't authorized to hold that base, let alone to attack anti-ISIS forces for getting too close to their base. They've accused the US of using the strikes to prevent ISIS from losing ground to the government.
The claims that the US are just reacting defensively ring hollow at any rate, as the Pentagon has openly confirmed in recent weeks that the US have been building up their troop numbers in southern Syria explicitly to confront the Shi'ite militias.