A US military convoy in Afghanistan's eastern Nangarhar Province was hit by a roadside bomb earlier today, with Pentagon officials quick to insist that no one was wounded in the incident. Three civilians, however, two of them children, were killed in the immediate aftermath.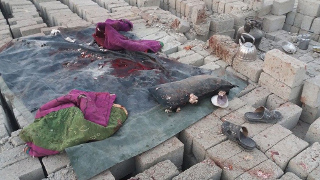 The US troops responded to the bomb hitting their vehicle by getting out and firing indiscriminately, according to Afghan police, who say that the US gunfire killed a brickworker named Ziyar Gul, and two of his children, both 10-year-old boys. A third son who was present at the scene survived, running to get help, though by the time he returned everyone else was dead.
Relatives say this is the second time US troops have killed members of this family in the past 12 months, as during an incident last year US troops killed another four members of the family, including Ziyar's 6-year-old son.
Though Afghan officials publicly confirmed the incident, the Pentagon insisted they had heard no official word that any civilians might've been killed in the incident, and that they believe the troops firing wildly after a roadside bombing amounted to "self-defense" at any rate.