With nearly complete results in, the Kosovar Albanian coalition calling itself "the war wing" is claiming victory in the general election of the disputed state, claiming that they have amassed "a convincing victory" in the vote.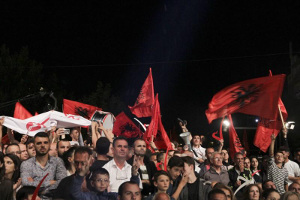 NATO attacked Serbia in 1998 and 1999, and at the end of the war declared Kosovo to be "a UN protectorate." Prior to that,Kosovo was part of Serbia, and the ethnic Serbs in northern Kosovo continue to oppose their independence, which was formally declared in 2008.
Heavily backed by NATO, Kosovo's claim to independence is recognized by a lot of nations, but by no means all of them. Their government is dominated by ethnic Albanian factions from the southern part of Kosovo, groups which remain hostile toward neighboring Serbia, and have tried to militarily prevent the Kosovar Serbs from trading across the border.
How long "independent Kosovo" remains so is anyone's guess, however, as a number of Albanian factions, including some within Kosovo, envision the creation of a "Greater Albania" which would envelop Albania, Kosovo, and parts of other neighboring countries with Albanian minorities.
Indeed, it was just over a month and a half ago that Albanian Prime Minister Rama suggested Albania ought to "unify" by annexing Kosovo outright, a comment which fueled warnings by Serbia, which does not recognize Kosovar independence, that such a bid would lead to a war.