Israeli officials have been eagerly backing regional hostility toward Qatar, and Defense Minister Avigdor Lieberman has doubled down on that, accusing the Qatar-funded al-Jazeera network, the most popular news media outlet in the Middle East, of being "Nazi-, Soviet-style propaganda."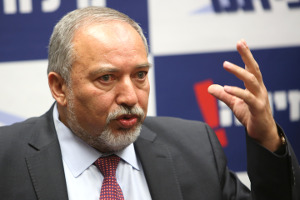 Lieberman's evidence for this was that al-Jazeera has often run stories critical of Israel, saying that such behavior doesn't rise to the level of journalism. Ironically, al-Jazeera is historically the only Arab media outlet that has allowed Israeli officials on to tell their side of the story at all, with most outlets banning Israelis as a matter of course.
Nor has al-Jazeera's criticism of Israel been materially different from what most of the world, minus Israel's own press and that within the United States, say about Israeli behavior, particularly in the occupied territories. Rather, this appears to be Lieberman's effort to take advantage of what he described as an "opportunity" in the Saudi-Qatar split to cozy up to Saudi Arabia and its allies without having to make any concessions to the Palestinians first.
Lieberman has tended to be hostile toward media outlets he sees as unfavorable to him personally, however, claiming that the Israel Hayom newspaper was a "Soviet-style propaganda" paper for being more favorable to Prime Minister Benjamin Netanyahu than to him, back when he was in the opposition.
The Saudi objections to al-Jazeera are not that they sometimes criticize Israel, but that they often offer dissenting viewpoints otherwise banned in Arabic-language media. This has led to one of the Saudis' chief demands to Qatar for resolving the ongoing dispute being the permanent dissolution of al-Jazeera.