President Trump continues to veer around wildly in his positions taken on Qatar, having gone from personally taking credit for the regional split with the tiny US ally earlier this week, backpedaling and offering to mediate, and now reversing course again and issuing a new condemnation of the Qatari government.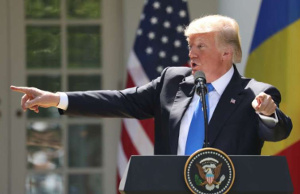 In his latest comments, President Trump demanded Qatar ends "its extremist ideology," and accused the nation of funding terrorism "at a very high level," an allegation which is consistent with claims by the Saudi government, but not consistent with actual evidence.
It's also inconsistent with official US policy, as the US government only recognizes three nations as "state sponsors of terrorism," and Qatar is not among them. Qatar has long been the host of the largest US military base in the Middle East, and the regional blockade is greatly complicating that base's operation.
Secretary of State Rex Tillerson also backed the Saudi-led moves against Qatar in general, but insisted that they ought to ease the blockade against the nation, for the sake of the US military base and the war against ISIS, which is being operated at least in part out of the base.
Trump's comments appeared to support the blockade more or less wholly, however, demanding Qatar make a series of concessions if they want to "rejoin the unity of responsible nations." Qatar has already ruled out accepting Saudi Arabia's long list of demands, saying that they have no intention of changing their foreign policy.
While Saudi officials have accused Qatar of "backing terrorism" as a way of justifying their split, by and large the dispute centers of Qatar's state media and their positions during the Arab Spring, supporting protesters calling for democratic reform, something which didn't sit well with the Saudis or many of their allies.
To the extent officials ever try to pin down who the "terrorists" Qatar is backing are, it tends to be the Muslim Brotherhood, for its role in the democratic revolution in Egypt (which was subsequently overturned by a military coup that the Saudis have endorsed) and the Shi'ite opposition parties in Bahrain, who have long complained of discrimination from the government. During the Arab Spring, the Saudis sent troops to Bahrain to crush the protests calling for free elections.
In accepting the Saudis' transparent claims of terror, President Trump is also putting the US into a position of being more overtly against democracy in the Middle East, making enemies of groups that are seeking such reforms, and aligning with the Saudis and Egypt's junta, both of whom are heavily averse to personal freedom.