President Trump made securing a massive arms deal with Saudi Arabia the centerpiece of his foreign policy trip to the region. The arms deal, the largest in US history, is worth $110 billion immediately and could expand to $360 billion over the decade. Such sales were always going to face some resistance in Congress, but it's more than anyone expected.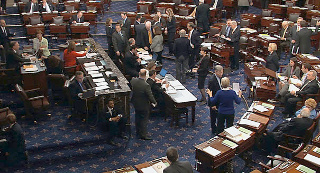 Sens. Rand Paul (R – KY) and Chris Murphy (D – CT) are at the head of the bipartisan effort. The efforts were similar to resistance to smaller sales by President Obama to the Saudi kingdom, but the much larger sale, and the much larger war crimes by Saudi forces in Yemen, are both adding a lot of support to blocking at least part of the sales.
Senate Democrats, who are always willing to consider positions contrary to President Trump, are showing up in much larger numbers to oppose the part of the sale related to bombs being dropped in Yemen, saying they want the administration to detail a clear strategy to end the Yemen conflict.
Sen. Paul in particular insisted that he doubted the general public was aware of how involved in the war the US is, and said that "there should be a valid debate on it." Human rights groups have also pushed heavily against sales related to the attacks on civilian in Yemen, and many have warned the US could risk a major backlash because of its heavy support for the Saudis in the war.
Though it is widely expected that the US arms makers looking to make billions of dollars of the deal will have enough lobbying influence to push the broad deal through, they may end up preventing certain aspects of the deal, particularly related to bombs of the types being dropped on Yemen.