South Korean President Moon Jae-in has made no secret of his displeasure at the US having made a deal with his lame duck predecessor on the deployment of the THAAD anti-missile system, and today made a move to temporarily suspend the installation of the deployed components.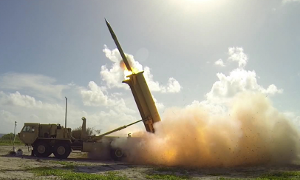 The US had initially deployed two THAAD launchers under the deal, and President Moon was furious when it was discovered the US had sent another four launchers to the site without telling him about it first. He is now blocking installation, pending an environmental assessment.
The move is in keeping with Moon's campaign, during which he insisted that South Korea had to feel free to say no to the Americans sometimes. He is not ordering the two installed launchers removed yet, however, but even this installation delay, which might take upwards of a year, is liable to rile the US, which isn't used to being told no.
The US has presented the deployments as meant to counter the "North Korean threat," but many South Koreans, particularly those in the area where THAAD is being deployed, fear that the presence of THAAD will itself make the site a target for potential North Korean strikes in the event of a war.