Visiting New Zealand today, Secretary of State Rex Tillerson announced that President Trump has asked him to move forward with efforts to "rebuild" the US diplomatic relationship with Russia, which he described as currently "at a low point and deteriorating."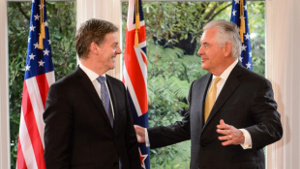 According to Tillerson, Trump wants to say the US-Russia relationship stabilize, and for trust to be rebuilt. He added that Trump insisted that the allegations surrounding election hacking by Russia mustn't be allowed to impede the attempts to restore diplomatic ties.
This interest is not new, and indeed President Trump made normalization of ties with Russia a major part of his 2016 election campaign. Virtually nothing positive has happened on that front since Trump's inauguration, however.
If anything, the Trump Administration had given the appearance in the past few months that the Russia rapprochement was wholly forgotten, with officials repeatedly insisting that there are no intentions of lifting US sanctions against Russia.
This also comes less than a week after former State Department officials had bragged about derailing previous Trump efforts to normalize US-Russia ties, however, so it may well be that such intentions have been around for awhile, and they're just trying to make something happen in the face of continuing opposition from people more comfortable with the US and Russia remaining enemies.