Obama-era State Department officials engaged in what they are describing as an "intense," behind-the-scenes campaign to prevent President Trump from normalization US relations with Russia shortly after he took office. The officials, who include former Obama Assistant Secretary of State Tom Malinowski, claim to have been the impetus behind the Senate resolution which aimed to forbid easing sanctions on Russia without Congressional permission.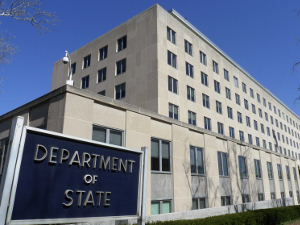 Though President Trump made much of his intention to normalize ties with Russia during the 2016 presidential campaign, he had publicly abandoned that proposal by the late-January, early-February period during which this effort supposedly happened, insisting he was holding off on sanctions relief on Russia for concessions.
Dan Fried, a State Department official who retired in late February, was quoted extensively in the reports, saying he received several "panicky" phone calls from officials around the government to try to "do something" to stop US-Russia rapprochement. He says he took these concerns to Sen. Ben Cardin (D – MD), and Cardin and Sen. Lindsey Graham (R – SC) proposed a bill that would block normalization.
While this is all being presented in the context of Obama's hostility toward Russia, and the mainstream political support for keeping the US and Russia speeding toward a new Cold War, if true the report also reveals that elements in the State Department, which in theory is America's diplomatic corps, went out of their way to engage in behind-the-scenes chicanery specifically to prevent diplomatic efforts toward improving ties with Russia.