The CIA has appointed Michael D'Andrea, who is colloquially known as "Ayatollah Mike," as the new chief of their anti-Iran operations. D'Andrea had previously participated in the hunt for bin Laden, was said to be heavily involved in the CIA's torture program against al-Qaeda detainees, and then oversaw the CIA drone war worldwide, with its huge death toll of both civilians and "suspects."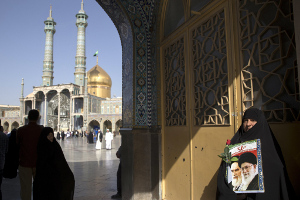 As someone who oversaw torture and widespread killing by CIA forces, and is seen as a particularly aggressive figure, D'Andrea's appointment to the Irann post is seen as a sign that the Trump Administration is taking a "hard line" toward Iran.
Exactly what a hard line toward Iran means, in the midst of repeated international confirmations that Iran is complying with its requirements under the P5+1 nuclear deal, is not clear, though Trump has repeatedly expressed opposition to the P5+1 deal, and may still be looking for an out.
Drones and torture don't appear to necessarily fit neatly into the current US policy toward Iran, which is largely to condemn them internationally and sell large amounts off weapons to Saudi Arabia to use against Shi'ites elsewhere in the region.