Though he waited until the last possible moment to actually sign the document, President Trump today signed a waiver for the Jerusalem Embassy Act of 1995, delaying the relocation of the US Embassy in Israel from Tel Aviv to Jerusalem. The Trump Administration had been indicating such a delay for weeks, though officially he'd been "undecided" until today, the deadline for the waiver.
White House officials, who were refusing all comment as recently as yesterday, today confirmed that President Trump they are maximizing chances of a peace deal between Israel and the Palestinians by holding off on the embassy move. The Israeli government is harshly criticizing the delay, with Prime Minister Benjamin Netanyahu saying not moving the embassy would "delay" the peace deal.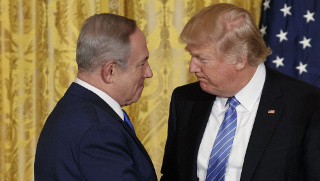 Just how mad Netanyahu is about the delay isn't clear, as while the farthest right members of his coalition are furious, for the prime minister himself it may be simpler to officially "outraged" at Trump than to have to deal with the fallout of an embassy move right now, as he tries to expand his coalition.
Some Israeli opposition parties were even supportive of the decision to wait on the embassy, saying that a provocative move like that would've pushed more international recognition for the Palestinians outside of the peace process, and that the government should make advancing the peace process a priority if they want embassies in their capital city.
In the meantime, the US will keep its embassy n Tel Aviv, just like every other country, and despite Israel officially considering Jerusalem their capital city, they have no embassies in that city to show for it.