Reports of civilian deaths in US airstrikes in Western Mosul appear to be once again soaring out of control, as indications of just over a dozen civilians slain has turned into around 200 civilians being slain over the course of the day, in a flurry of airstrikes targeting ISIS-held neighborhoods in the Old City.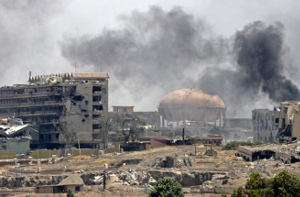 While at least some of these civilians were killed in US and coalition airstrikes, there were also reports of a significant Iraqi Air Force presence over the area, so it is not totally clear how many were killed by whom in the course of these devastating attacks.
The heaviest attacks were in Zanjil District, where dozens of houses were leveled in several hours of heavy airstrikes. Iraqi Army officers who confirmed the strikes said they were also unclear if the strikes were carried out by the US or Iraq.
Civilian deaths in US airstrikes in Iraq and Syria have, however, been a recurring problem, with hundreds killed last week around Raqqa, and civilian death tolls calculated by NGOs like Air Wars suggesting the US has gone from killing scores of civilians every month to killing several hundred.