Just a day after they bombed a village in the Mayadeen area, near the ISIS capital of Raqqa, US warplanes launched yet more airstrikes, and once again the indications out of the area is that everyone slain in the attacks was a civilian, bringing the two-day toll in excess of 115.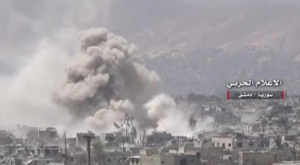 Today's bombings, according to the Syrian Observatory for Human Rights, killed at least 80 civilians, overwhelmingly women and children. The slain were said to include "relatives" of ISIS fighters, including both Syrians and Moroccans. The other nine civilians were just locals, including five children.
There has been no official statement from the Pentagon on either of the two days of strikes, and no indication on why the US attacked the village, apart from it being sort of close to Raqqa, and the US has been launching a lot of airstrikes around the outskirts of Raqqa, nominally in support of the Kurdish YPG's advances.
The US has been killing a soaring number of civilians in airstrikes in recent months, occasionally admitting to incidents, but generally keeping up the pretense of "enormous care" taken to not kill even more. While the Pentagon insists targeting rules have not been relaxed, the soaring death toll is clearly raising doubts about US policy.
That today's attack killed a lot of ISIS family members is likely to add to questions, particularly as President Trump openly advocated killing family members of terrorists as part of the war, complaining that the lack of family killing amounted to a "very politically correct war." That's one thing President Trump won't be accused of, given the number of civilians he's having killed.