If you looked in major US newspapers this morning, you probably saw images related to the Manchester bombing investigation, including a police photograph of the apparent detonator that's been making the rounds, along with a bunch of other information that was supposed to be very much secret right now.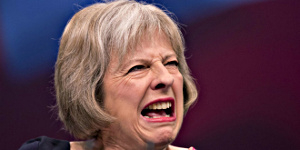 British police are saying that this was related to them sharing intelligence about the attack with US government counterparts, theoretically to collaborate on the investigation into a serious terrorist attack. In reality, what they shared with Americans was quickly leaked to the American press, which they say is a major "breach of trust."
While the US and Britain are historically among the coziest of allies with respect to intelligence sharing, the British government is said to be "furious" with the level of information that got out, as investigators were very concerned that some of these things might compromise the investigation.
Prime Minister Theresa May and President Trump are both scheduled to be in Brussels tomorrow for a NATO summit, and it is widely expected that May will "challenge" Trump about the level of information which seems to be making its way into the press.