US officials are said to be unsatisfied with Israel agreeing to a slight increase in building permits for Palestinians in the occupied West Bank, and are now calling on Israel to make some revisions to the way they've carved up the West Bank so as to add a bit more Palestinian land into Area B.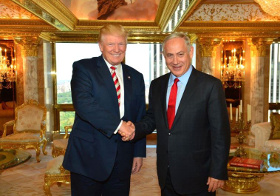 Israel has divvied up the West Bank into 3 areas. 60% of the West Bank is Area C, under full Israeli military rule. Area B, which is about 22%, sees the Israeli military fully under security control of the area, but the PA having some administrative control. 18%, known as Area A, is under full PA control, apart from being militarily occupied.
It's unclear just how much territory would be changing hands under the US proposal, but some 150,000 Palestinians live in Area C. Palestinians in Area C tend to live under harsh travel restrictions and receive few government services,.with the Israeli military nominally expected to provide them.
Israel's far-right government is unlikely to agree to such a concession, and Prime Minister Benjamin Netanyahu's office is denying that any such proposal was even made, which is a common way for his government to reject Trump proposals without risking hurting his feelings.
Last 5 posts by Jason Ditz