Turkish President Recep Tayyip Erdogan has a recurring problem with foreign dissent occurring on foreign soil, and can't seem to get through a visit to the United States without his bodyguards feeling obliged to assault political demonstrations. The State Department wasn't super thrilled with that, but Turkish officials are downright furious this time around.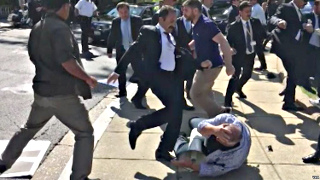 Following the State Department saying they had "concern" about the beatdown of protesters, some of whom were waving a Kurdish organization's flag. Turkey has summoned the US Ambassador to deliver a hand-written protest to the US government for daring to allow such protests in the first place.
Turkey's Foreign Ministry argued that they want a "full investigation" into the circumstances whereby the US allowed the public demonstration to take place, insisting it was a "provocative" action and that the demonstration was clearly unpermitted.
The Erdogan government, of course, is unaccustomed to dealing with such protests, as people across Turkey are routinely disappeared into custody for even a hint of disloyalty toward the president. Still, an unfamiliarity with public dissent is hardly unique to Turkey, among foreign leaders visiting the US, and seemingly everyone else is able to cope with seeing protests without sending a bunch of guys with batons over to cudgel them into silence.