A "senior White House official" is being quoted in the Jerusalem Post as saying that during next week's visit to Israel, President Trump will ask Prime Minister Benjamin Netanyahu to curb the rate of expansion of settlements in the occupied West Bank.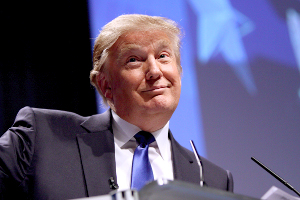 The US and Israel held negotiations previously, trying to come to an agreement on growth rates, but despite Netanyahu playing up his interest in making such a deal, he spurned every specific offer, and followed it up with continued expansion at a large rate.
Much of the far-right Israeli government favors settlement expansion even faster, believing Trump's pledges to be "pro-Israel"  mean he will more or less look the other way no matter what Israel does, and protect them from any international repercussions at the UN Security Council.
Trump does, however, seem interested in kick-starting the peace process, and seems to recognize massive territory seizures in the West Bank could imperil that. It is noteworthy that Trump is trying to curb the settlements a day after it was announced the Palestinians had backed away from settlement freeze as a precondition for talks.