In a move that's going to be a tough pill to swallow for Israel's far-right government during his first visit to the country, President Trump is going to publicly endorse the idea of Palestinian "self-determination," in support of his new efforts to kick-start peace talks.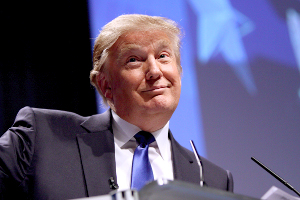 This is a major departure from his previous statements, in which he abandoned US support for the two-state solution, as giving the Palestinians self-determination would necessarily imply that they can establish an independent state on Palestinian soil.
US Ambassador to Israel David Friedman has informed Israel of Trump's intent to push the peace process, urging them to cooperate with Trump's efforts, saying he's not likely to change his mind, despite knowing how difficult the effort will be.
Palestinian President Mahmoud Abbas has told Trump he's ready to reach a peace deal with Israel, and Trump is going into his visit to Israel with an eye on getting the peace process going again. The far-right Israeli government is deeply divided on whether peace is possible at all, and it's going to be difficult for Prime Minister Benjamin Netanyahu to navigate this visit without suffering a major political backlash.