The latest n a growing series of examples of US troops deployed abroad on "non-combat" missions and being thrust immediately into direct combat, the Pentagon is confirming that US Navy SEAL Kyle Milliken, the first US soldier killed in Somalia in decades, was on the front-lines when he was killed.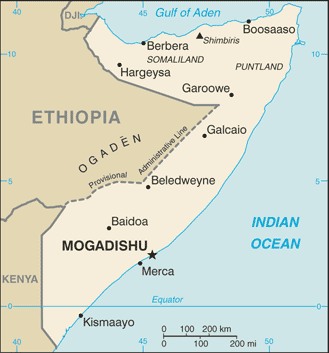 The SEAL was on an "advise and assist and accompany" mission which went wrong, and was killed by al-Shabaab fighters. Two other Americans were also wounded in the operation, including an interpreter. Officials say the troops were meant to fall back before they reached the target area.
They didn't, and instead the mission failed almost immediately, with everybody, Americans and Somalis, withdrawing after several were hit. Officials say they don't think the Shabaab fighters deliberately targeted the Americans, because it was too dark to tell who they were aiming at, and just shot.
"Advisory" missions have become the common way of labeling US overseas operations in recent years, by way of presenting themselves as doing something short of fighting full-scale wars. This facade evaporates pretty quickly, however, whenever casualties happen, as it turns out that the troops are every bit as much combat troops as ever.