1993's calamitous Black Hawk Down incident saw 18 US soldiers killed and 73 wounded, leading to a quick military withdrawal from Somalia. Less than a month ago, the US African Command (AFRICOM) announced a new deployment of US ground troops to Somalia, and despite presenting it as a "non-combat" operation, we already have our first casualties.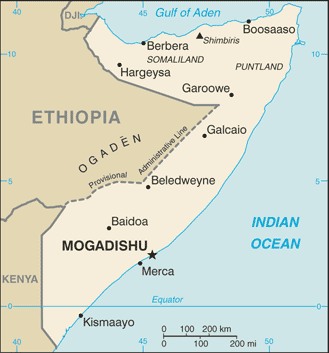 Pentagon officials confirmed today that a Navy SEAL was killed and two others wounded by "small arms fire" while conducting an operation west of the Somali capital of Mogadishu. These are the first US deaths in the country in 24 years.
The claims that this was a deployment for "simple training" fell apart pretty quickly as well, with officials saying today's casualties happened during "an assault on an al-Shabaab compound," meaning the US troops were directly in combat roles at the time.
The Pentagon still tried to shrug this off as something short of a "combat operation" by insisting the troops weren't scheduled to enter the compound, but were to just stand outside and "advise and assist." Officials are trying to blame the casualties on the troops "not taking cover fast enough" when they were dropped right next to the compound and a gunfight broke out.