While President Trump is often criticized in the media for his excessive bellicosity on certain issues, he is never quite so roundly and universally condemned by mainstream outlets as when he's talking peace. That fact was underscored today, when he told Bloomberg News he would "be honored" to meet North Korea's Kim Jong-un.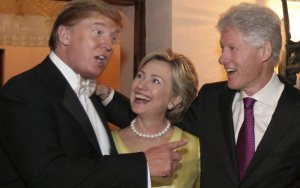 Despite Trump offering several qualifiers about talks if "appropriate" and "under the right circumstances," which suggest it almost certainly will never happen at all, was loudly panned. Indeed, many outlets that offered at most tepid reporting of international concern Trump was about to attack North Korea were quick to lash out at the very idea of diplomacy.
That Trump seems to have at least backed away from his threats to attack a little bit is a relief to many, and the possibility of the US moving away from launching a major regional war and toward direct diplomacy should be a reason for applause, even if it is clearly very much a long shot.
President Obama certainly was never this heavily criticized for suggestions of diplomacy, during the 2008 campaign suggesting he was open to meeting with both the leaders of Iran and North Korea, saying refusing diplomacy on the idea it amounted to "punishing" the other nation was ridiculous.
Of course, President Obama never met with either, as diplomacy in conflict with the status quo became a lot less convenient in practice than it was in theory. Still, the idea that the US might negotiate with nations they aren't on the best of terms with appears to have become dramatically more controversial.
This was also underscored with President Trump's early talk of meeting with Russia and trying to negotiate a rapprochement. While President Obama was able to do a "Russian reset" with relative ease, even Trump's suggestion that having better US-Russia relations would be a good thing was a target of derision across the press and Congress, with many clearly deeply invested in continuing acrimony.
The anti-diplomacy bias that exists now has become almost preposterous, as even the likes of Dennis Rodman can't visit North Korea without it becoming a huge negative story. With President Trump is clearly never going to visit Pyongyang, at this point it seems like even suggesting he might conceivably be in the same room as Kim is a step too far for many.