US officials have repeatedly vilified WikiLeaks founder Julian Assange over the past several years, and intermittently called for his assassination, but just now appear to be nearing a decision to file charges against him, accusing him of crimes for involvement in the whistleblower organization.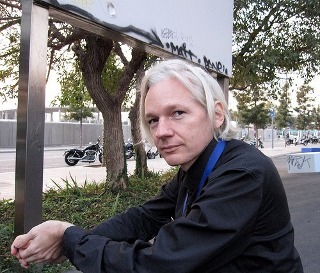 What the charges might be remain a matter of speculation, as Assange's lawyer says they've heard nothing from the Justice Department. CIA chief Mike Pompeo, however, suggested the charges could be speech related, insisting Assange doesn't get "First Amendment freedoms" because he isn't American.
This sudden interest in going after Assange is seen at least in part to be fueled by the Trump Administration's effort to distance itself from WikiLeaks' release of information harmful to the Clinton campaign in the 2016 election. Pompeo angrily attacked WikiLeaks just last week as a "non-state hostile intelligence service."
Attorney General Jefferson Sessions insists that even though there haven't been charges laid against Assange yet that arresting him is "a priority" for the Justice Department, citing the number of "quite serious" leaks WikiLeaks has been responsible for.
Even if the charges are filed, arresting Assange is likely to be a tricky matter, as he's presently in the Ecuadoran Embassy in London, and Ecuador provided him asylum specifically because of fears he'd be sent to the United States and subjected to torture.
The British government has so far not allowed Assange to leave the embassy to travel to Ecuador, citing Sweden's interest in extraditing him for "questioning" related to a rape allegation. The concern has long been that if Assange was sent to Sweden he'd be quickly forwarded on to the US government, and would probably never be seen or heard from again.
Interestingly, President Trump publicly praised WikiLeaks during the campaign for releasing information about Hillary Clinton, even joking that WikiLeaks might be able to find Clinton's "lost" emails. Having since turned against Russia in large part as a political effort to distance himself from allegations of election manipulation, Trump's cabinet is also turning against WikiLeaks.