In October 1993, during the Battle of Mogadishu (the Black Hawk Down incident), 18 US soldiers were killed and 73 wounded, with a pair of Black Hawk helicopters shot down. The US responded by ceasing military operations, and within a few months had withdrawn all troops from Somalia. Today, they are headed back.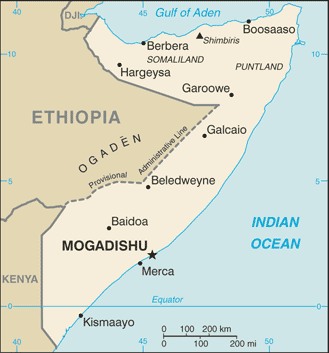 The new deployment, which US African Command (AFRICOM) is presented as a simple training operation, will be the first time US ground troops are officially deployed to Somalia, though of course the US has had some special forces present on the ground on and off, conducting occasional operations and spotting for US airstrikes.
AFRICOM also insists the new deployment was at the request of the Somali government, though indications in recent weeks has indicated that military officials have been pushing for an escalation of US intervention in the country at any rate, aimed at fighting al-Shabaab.
When commanders want to push for fighting in Somalia, al-Shabaab is presented as either ISIS or al-Qaeda affiliated, though in practice the group is largely an independent Islamist operation with a similar ideology. The group's operations are confined almost exclusively to Somalia, though they have launched some strikes into neighboring countries, as retaliation for those countries (particularly Kenya) being involved in interventions against them.
A lot has changed in Somalia in the 24 years between direct US interventions, with the country undergoing a long period of comparatively stable anarchy followed by a protracted war designed to prop up a self-proclaimed government. It was this war, and African Union interventions to try to claim territory for this government, that largely fueled the creation of al-Shabaab.