US officials usually have plenty to say about North Korea, all of it hawkish, with the White House only yesterday declaring that "the clock has now run out on North Korea." Through much of the past several weeks, Secretary of State Rex Tillerson has been making the rounds, playing up the idea that the military option is on the table against North Korea.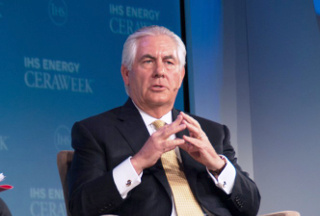 Today, however, Tillerson was uncharacteristically quiet when asked about North Korea's failed missile launch, insisting that the US "has spoken enough about North Korea. We have no further comment." It's rare for officials to miss any chance to hype the idea of US hostility toward North Korea.
Chinese President Xi Jinping is due to visit the US later this week for a meeting with Trump and Tillerson, and most analysts believe the bellicose US statements of recent days were aimed primarily at China. It may be that they're done with pressuring China publicly for the time being, and that's why no new statement was offered.
President Trump has claimed recently he believes China has great influence over North Korea and could compel them to disarm with relative ease. China has been trying to get the US and North Korea to negotiate a settlement, though US officials have ruled out further diplomacy, insisting that it has failed.