Speaking today at an anti-ISIS coalition meeting, Secretary of State Rex Tillerson confirmed previous comments by President Trump that the US intends to set up "safe zones" in northern Syria "to allow refugees to return home."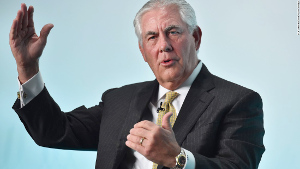 As has been the case in the past, Tillerson's comments did not offer much in the way of details on how the US intends to make this happen, though he did offer the idea that the US would establish "interim zones of stability, through ceasefires."
There were no details on exactly where these safe zones would be located, but one would have to assume that the territory occupied by Turkey in northern Aleppo Province would house at least some of the zones, and that it is unlikely the Idlib Province, which is torn by fighting among various rebels, would have any.
Turkey has been calling for the safe zones for years, and has envisioned them being used as a base of operation for pro-Turkey rebels to operate out of without fear of being retaliated against militarily. Turkey's presumptive involvement in the effort likely also means no zones will be in Kurdish territory, though there are not so many refugees in the area around Syrian Kurdistan as there are further west.
The coalition meeting emphasized the goal of destroying ISIS, while Tillerson emphasized that there would be no "nation-building" afterwards in either Iraq or Syria, though he reiterated that US troops would remain in Iraq after the war.
Coalition military officials denied that any orders have been given to them so far to establish safe zones or "any kind of zones" at all. Though Turkey now controls territory that could be used for such zones, it is likely the US would be expected to deploy a lot of troops to secure those areas.