The US-backed Kurdish YPG have announced an agreement with Russian forces in Northern Syria for an establishment of a Russian base near Afrin, a deal which will see Russian forces offering training for YPG fighters in the westernmost parts of the Aleppo Province.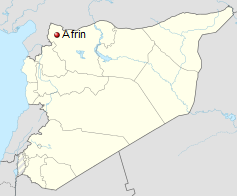 Russian officials were quick to deny that there was any intention of establishing a new military base in the area, and said the new presence of troops there will be at a "reconciliation center" intended to focus on preventing ceasefire violations, and not a base as such.
The YPG-held area around Afrin is separated from the rest of Kurdish territory in Northern Syria by a considerable chunk of territory which is controlled by Turkish forces. Turkey has attacked Kurdish YPG fighters on both sides of its captured Syrian territory, and talking up more moves against the Kurds.
While the US is heavily supporting the YPG further to the east, there has been no report of the US having any forces around Afrin, and to the extent this deployment puts Russian troops in the area, Kurdish officials appear to hope it will deter more aggressive Turkish operations against them.