The deployment of US troops into the city of Manbij, and the Kurdish handover of neighboring villages to the Syrian military, weren't all that happened in the area today.  Russian troops, eager to use their presence to sustain a Syria-Turkey ceasefire, also arrived in the area.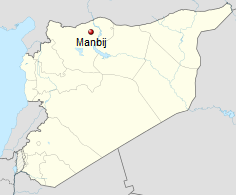 This has ended with US troops, Syrian troops, and Russian troops all deployed into neighboring villages for patrols, and all with the same intention, keeping Turkey's invasion force and its rebel allies from getting to the city of Manbij, which remains under the control of Kurdish forces.
A ceasefire largely remains in place in Syria, which includes Turkey and Syria, and which Russia has been trying to police by being close at hand whenever Turkey-backed rebels started attacking the Syrian military. The Kurds were deliberately excluded from the ceasefire, at Turkey's insistence.
So Turkey can attack the Kurds just like they were attacking ISIS, but they have to get to them first, and they've got three nations in the way. Turkish officials have since insisted that a unilateral attack on Manbij is not necessarily their next step, but wherever they attack, the expectation is that it will involve Kurds.