A newly negotiated attempt at getting recent clashes in Eastern Ukraine under control took effect overnight, and by all accounts is successful so far, with no reports of violation from any side, and hope that both sides will resume withdrawing heavy weapons.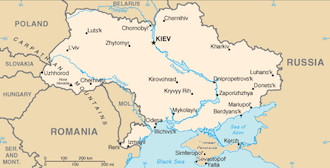 The ceasefire's terms are along the lines of the Minsk agreement reached two years ago. The deal ultimately aims to resolve the fighting in Eastern Ukraine with a series of government reforms increasing autonomy for locals and the holding of free local elections.
Following through on the Minsk deal has been difficult, as Ukraine's far-right has angrily opposed any moves to give the ethnic Russian east improved autonomy, and the government has not followed through with promised reforms, demanding the eastern rebels completely disarm before any reforms happen.
The Eastern Ukraine civil war centered on government attempts to clamp down on the ethnic Russians after a regime change ousted a Russian-backed government. The government banned Russian as a second official language, and also aimed to clamp down on commerce along the border.