During a joint news conference today, President Trump called on Israeli Prime Minister Benjamin Netanyahu to "hold back on settlements for a little bit." The comments come after multiple statements from the White House urging Israel to back away from its massive, unilateral settlement expansions.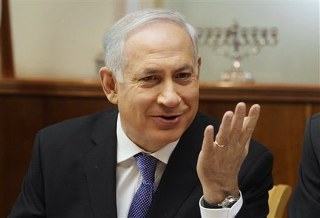 Netanyahu was openly dismissive of the comment during the conference, insisting "we'll try," which Trump said "didn't sound too optimistic." The matter was dropped for awhile, though the press later asked Netanyahu to elaborate on the position.
To this, Netanyahu again dismissed the idea of holding back on settlement expansion, insisting that the settlements are "not core to the conflict" and aren't really a matter that need to be taken seriously. Trump did not respond any further on the matter.
Trump had previously told an Israeli newspaper that he realizes the problem the settlements pose, that the more land Israel takes for settlements, the less land is left for a future Palestinian state. This matter is less of a concern, perhaps, now that Trump has ditched the two-state solution. Either way, he appeared unwilling to appear to contradict Netanyahu at all.