The US has made a long-standing point of reiterating its support for the two-state solution in the Middle East, to the point that Israeli Prime Minister Benjamin Netanyahu's disavowal of the policy during the last election was seen as a huge threat to US-Israel relations, and one which required multiple comments on both sides.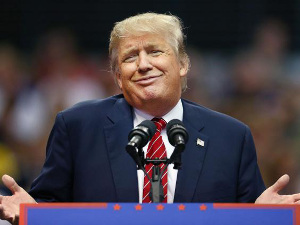 Netanyahu is set to visit President Trump tomorrow, and on the eve of that meeting White House officials are hinting at a huge policy shift, with one official saying that they "won't insist" on the idea of a two-state solution in the Middle East in the future.
Administration officials haven't issued a statement on this as a matter of formal policy, but the fact that a White House official is telling the press that the US goal is peace as a general notion, and that they are no longer insisting on an independent Palestinian state as part of that peace, is huge in and of itself.
Israel is likely to tread carefully on this suggestion at first, since it isn't a formal policy statement yet, but members of the nation's far-right government who believe Trump is going to allow them wholesale annexation of Palestinian lands for Jewish settlements may be expected to start agitating for new Israeli government policies based on the assumption that the comment represents the end of US interest in the peace process.