Speaking today in a joint news conference with British Prime Minister Theresa May, President Trump downplayed the chances of a quick move to lift sanctions on Russia, insisting that he is still very early in the process of considering sanctions relief for the nation.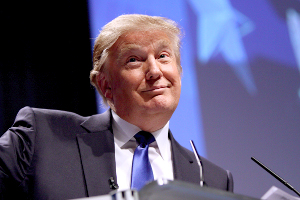 May made it clear she opposes the sanctions relief, saying she wants to see the full implementation of the Minsk Agreement on the East Ukrainian Civil War before any relief happens. The Minsk ceasefire agreement has been largely holding for the past two years, but has not been fully implemented, with a deal on allowing local elections in Eastern Ukraine being resisted by the Ukrainian government.
Trump insisted again that he remains committed to improving US-Russia relations, something which much of the rest of NATO loudly opposes, and which probably won't be possible without lifting a lot of sanctions. It may just not happen in a timely fashion.
Trump's comments reflect those he made in recent weeks, suggesting he would try to use the Russia sanctions as leverage to negotiate deals with Russia, potential one centering on nuclear disarmament. Russia has clearly hoped for a quicker move, however, and is expected to push Trump to act quickly.