The Trump transition team has issued a blanket order to all politically-appointed ambassadors from the Obama Administration, requiring every single one of them to resign from their posts "without exception" by January 20th. Career diplomats will not be impacted.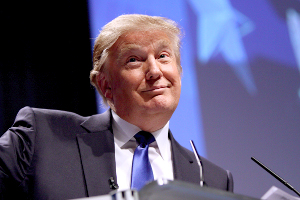 This is being presented as a major break from tradition, as historically some ambassadors, particularly those with school-aged children, have been allowed to remain in their posts for additional periods of time to try to ease the transition, though the State Department admitted that in practice, this is how it's always worked, and such exemptions were totally up to an incoming administration and always on a case-by-case basis.
The Trump transition team insisted there was no "ill will" behind the announcement, insisting all of Obama's domestic appointees are expected to be out by January 20th and the ambassadors shouldn't be surprised about being held to the same rule.
Since there are a lot of politically appointed ambassadors, and the Trump team has not announced a full list of replacements, let alone brought them up for approval in the Senate yet, the January 20 hard date means that a large number of nations, including some major US allies like Britain and Germany, are going to be without US ambassadors, potentially for months on end.