Thursday's announcement that the US is expelling 35 Russian diplomats and also ordering them out of a pair of long-owned diplomatic compounds fueled calls from top Russian MPs for retaliation, and Foreign Minister Sergey Lavrov reportedly proposed that they expel an identical number of US diplomats. Russian President Vladimir Putin said no.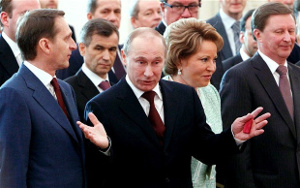 Putin later released a statement saying Russia is not expelling anyone, and "would not descend to the level of irresponsible diplomacy" of the Obama Administration. He added that he was going to wait for steps to improve Russian-American relations with President-elect Donald Trump.
Russia's Foreign Ministry called the Obama Administration 'a group of embittered and dim-witted foreign policy losers," presenting the expulsion from the diplomatic compounds, popular vacation sites for diplomats' families, as an "anti-family" move.
Putin followed up his announcement that the US diplomats aren't being expelled by announcing that he is inviting all the US diplomats, and their families, to the Kremlin for a big New Years party, and inviting diplomats' children to a Christmas party (Russian Orthodox Christmas is on January 7).
Though Putin said he isn't totally ruling out any retaliation for any US actions, as Obama's "retaliation" may still be unfolding, it is clear Putin is trying to take the high road, remaining confident that Trump is going to reverse much of the action anyhow.