With the nation still reeling after yesterday's Saudi airstrikes in the capital city of Sanaa, including the deadliest single attack on a civilian target in the entire war, Yemen's longtime former president Ali Abdullah Saleh is urging the entire country to mobilize for revenge attacks.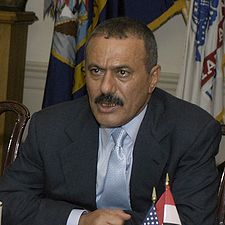 The deadliest of yesterday's attack saw Saudi warplanes attacking a funeral home during the funeral of the father of the interior minister. At least 155 people were killed in the strike, including Sanaa's mayor, and Red Cross officials have suggested the final death toll could be far higher than this, with hospitals reporting upwards of 500 wounded, many badly so.
Saleh urged all able-bodied "sons of this nation" to make their way immediately to the nearest battles to resist the Saudi forces in the country. He also called on the Houthi-led government, which his party is also a member of, to increase battle readiness and move on the Saudi border.
Saleh was president of North Yemen, and later unified Yemen, from 1978-2012. He was replaced in 2012 by Abd-Rabbu Mansour Hadi, who was installed in a UN-backed move for a two-year term, leading to the writing of a new constitution and free elections. Hadi extended his term unilaterally in 2014, but was forced to resign in 2015 when an offensive against the Houthis backfired and led to a Houthi counterattack that captured the capital.
The Saudis attacked Yemen a couple of months later, vowing to reinstall Hadi, and while Saleh initially trued to stay neutral, a Saudi airstrike against his home led him to back his longtime rivals against the Saudi invasion. The current government in Sanaa is dominated by the Houthis but also includes significant representation for Saleh's General People's Congress.